SBP4 (Rusia) en Barcelona
24 SEPTIEMBRE de 2023 a las 20:30

Sala La Nau
, Carrer d´Àlaba, 30, BARCELONA
Todos los Publicos
SBP4 is going to present it's new album "There is nothing left". For the first time the audience will be able to hear most of the songs on the record live. 19:00h doors , 20:30h- show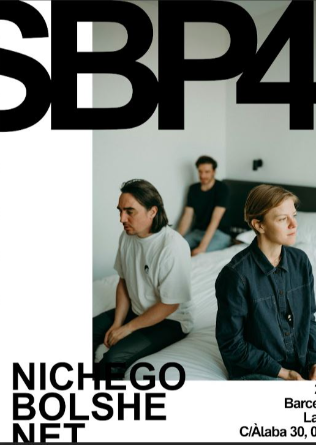 SBP4 is going to present it's new album "There is nothing left". For the first time the audience will be able to hear most of the songs on the record live. 19:00h doors , 20:30h- show
Más información sobre el evento
Entradas tickets SBP4 en Barcelona
"SBP4 is going to present it's new album "There is nothing left". For the first time the audience will be able to hear most of the songs on the record live.
And also rare, old and wildest compositions. Now this is music of people in pain, for people in pain
"... with all the richness of choice, it looks like the best album of the band" (Alexander Gorbachev, New Music channel)
"... the best record of the fall for those who want to talk about what is happening" (Sofya Vorobyova, Meduza)
"The most powerful album in Russian in 2022" (Nikolai Grunin, Signs of Life channel)
"There's Nothing Left, it seems like something can add to your life and can resonate with you, no matter where you are now and how much your life has changed in 2022" (The Flow)
"But the most valuable thing about "There is nothing left" is that it helps to somehow survive this pain from the loss of the past" (Nikolai Ovchinnikov, The Village)"