ALCATRAZZ + Girlschool en Madrid
7 SEPTIEMBRE de 2022 a las 19:30

Shoko Live
, Calle Toledo, 86, MADRID
+ 16 Años (menores acompañados de adulto)
ALCATRAZZ + GIRLSCHOOL en Madrid - SHOKO
+ 16 Años (menores acompañados de adulto)
Organizado por:
Roll the Dice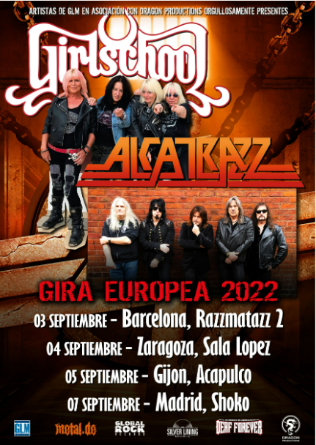 ALCATRAZZ + GIRLSCHOOL en Madrid - SHOKO
Más información sobre el evento
Entradas ALCATRAZZ + GIRLSCHOOL en Madrid - SHOKO
- puertas 19:30h - 20h Alcatrazz - 21:30h Girlschool
With neo-classical "shred lord" Joe Stump on guitar, founding members Jimmy Waldo and Gary Shea, plus the addition of Doogie White, Alcatrazz is offering a high energy metal show covering the Alcatrazz classics plus Doogie's own work as a member of the Michael Schenker Fest and Ritchie Blackmore's Rainbow.
Newly joined by drummer Larry Paterson formerly of Blaze Bayley, this is a metal supergroup in the true sense of the word.
Alcatrazz's latest album "V" was critically acclaimed and sold extremely well around the world in 2021, the band is forging ahead touring and working on new music and will continue in this powerful heavy direction into 2022 and beyond.