WARNER E. HODGES en Jerez
29 SEPTIEMBRE de 2023 a las 21:30
Warner E. Hodges en Jerez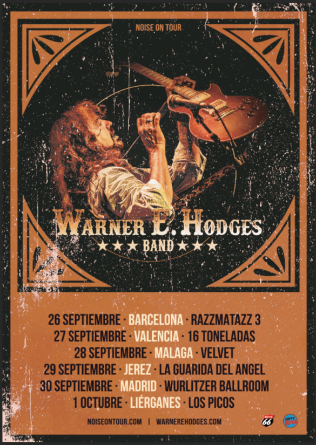 Warner E. Hodges en Jerez
Más información sobre el evento
Entradas Warner E. Hodges en Jerez
It's an undisputed, stone cold fact that Warner E Hodges is one of the most instantly recognisable guitarists playing today, and one who played a major role is creating what we now call Alt Country or Americana.
He and his partners in the legendary Jason & The Scorchers loved both country and punk music and didn't see why they couldn't play both. This "new" music has gone on to influence generation after generation of players and just recently, when the Scorchers shared a bill with Steve Earle, The Mavericks, Lucinda Williams and Blackberry Smoke, a fellow musician was heard to say that every musician on that bill owed the Scorchers $100, because without their groundbreaking work, none of the others would be playing the styles of music that they are.
The story starts in Wurzberg, Germany, where Warner was an army brat. His parents both had a passion for country music and the young Warner joined their band, playing drums. For Christmas 1970, his older brother gave him the debut albums by Black Sabbath, Jimi Hendrix and Led Zeppelin. His father (no mean guitar player himself) heard that an up and coming band featuring a hot shot guitarist was coming to town, and bought tickets. The band was Deep Purple, the guitarist Ritchie Blackmore. The young Warner switched from drums to guitar.
Moving back to the USA in the mid '70s, two discoveries would prove to be the main lasting influences on Warner's developing style. First he fell in love with AC/DC, who are still his favourite band of all time. Secondly, the Sex Pistols hit America, and the high energy style of Steve Jones plus their DIY punk ethic - that anyone could pick up an instrument and make their own music - also made an impact.
Warner played with a succession of local Nashville punk bands, and then he and two school friends - Perry Baggs and Jeff Johnson - met a singer who had moved to Nashville looking for musicians to join him in fusing the style of Hank Williams with the Ramones. The singer was Jason Ringenberg, and Jason & The Scorchers were born.
Signing with Praxis Management, the Scorchers recorded two EPs and six albums and shared stages with The Ramones, Bob Dylan, REM, Circle Jerks, Carl Perkins and Stevie Ray Vaughan to name a few. Warner's stage persona ensured that he matched Jason for the centre stage spot, inch for inch. Their reputation as live performers eventually led to the Americana Music Association awarding them the "Lifetime Achievement Award For Life Performance" in 2008. They still tour every now and then, and every time they do play, it's a special event.
Warner and Jason, the two remaining founder members, each have thriving careers outside of the Scorchers. In 2007, Warner joined Dan Baird and Mauro Magellan (both ex Georgia Satellites) in a new band, Dan Baird & Homemade Sin, Warner proving the creative foil for Dan to bounce off. The band recorded five studio albums, the biggest selling being Rollercoaster which was produced by Warner.
In 2010 Warner began a parallel solo career and has so far recorded four albums, the latest of which - Right Back Where I Started - features members of Cheap Trick, The Mavericks and Steve Earle & The Dukes.
The plan was always to find a core of permanent musicians, and with Warner spending more time in Europe it made sense that he would eventually settle on a line up from that side of the pond. Ben Marsden on guitar, Jason Knight on bass and John Powney on drums may all be new names to most people, but that is set to change, and with them behind him Warner now has a band capable of running Black Sabbath into Merle Haggard and back out into AC/DC. Their debut album is due to be released in April 2020, and word is that it's the most Jason & The Scorchers sounding record of Warner's solo career. The band will play their biggest date so far at Sweden Rock 2020. The Warner E Hodges Band will be touring anywhere and everywhere that (as Warner puts it), has the electricity to stage the show and the money to pay the band. As anyone who has seen the band will attest, it's a fun night out. Each musician is a master craftsman in their own right and Warner is still a showman that few can match.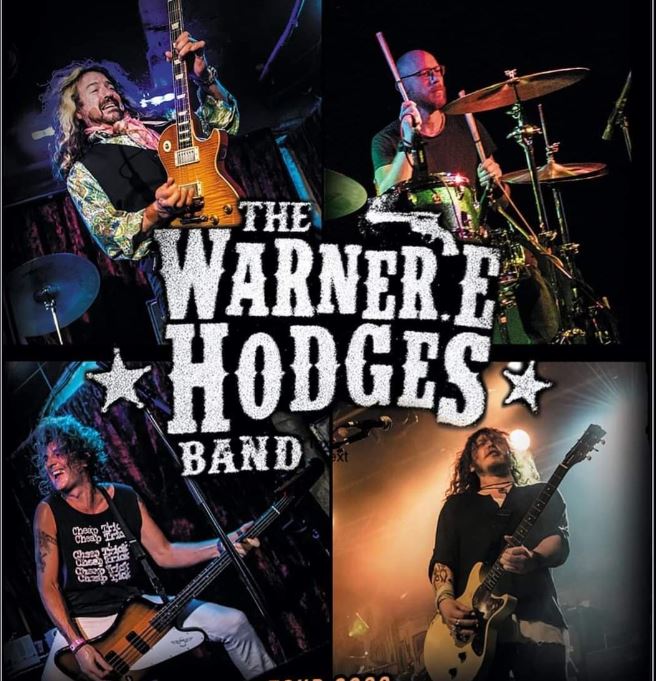 WARNER E. HODGES en Jerez
Desde 15,00 €
Comprar entradas